Support (Home Page)
1st Things First...
Latest Update...
ProServe 2012 v1.0.41, 07/05/2018 click here for more information...
ProServeWeb Tools v1.0.01, 01/29/2018 click here for more information...
See Kenny Bee's Tips for new Scan Document Access feature in v1.0.17
See Kenny Bee's Tips for new Post Payments Queue feature in v1.0.22
See Kenny Bee's Tips for new Global eMail Features in v1.0.35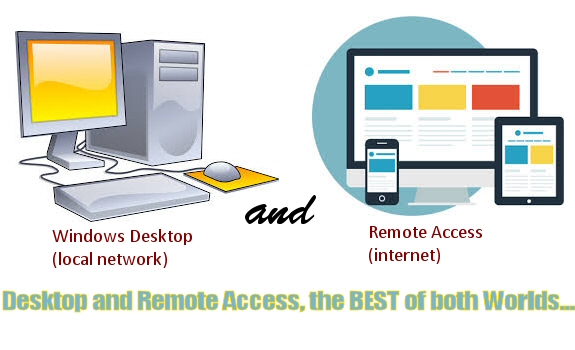 If you want remote access and yet are concerned with all of your company data being housed on the cloud, then consider our unique solutions. With ProServe 2012 and it's databases installed and maintained on your local desktop or network, while being able to synchronize only work orders to and from a web based SQL database for remote processing may be the answer... more...

Check Out Our New Product...
Basic Tips...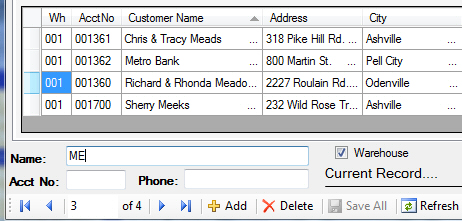 Double Click the blue block in the far left of any data grid to enter into Edit mode.
Use the Search fields to filter down to locate records.
Use TAB key to move from one field to another.
Use ENTER key to accept a Command Button when button is active.
During any screen session, you must select the Save All button to save all applied changes back to your database. This allows you to Quit without saving any changes.
On any data grid view, you can select any column header to sort by that header ascending or descending.
On any data grid view, you can select items by using the mouse and Shift key or Ctrl key. To select all - click the gray box in the top left corner. Then use Ctrl C to copy and Ctrl V to paste. You can copy/paste into any other Windows program including Word and Excel.
Pull-Down Menus are sorted alphabetically, use your mouse or keyboard to help make selection.
Referencing Programs...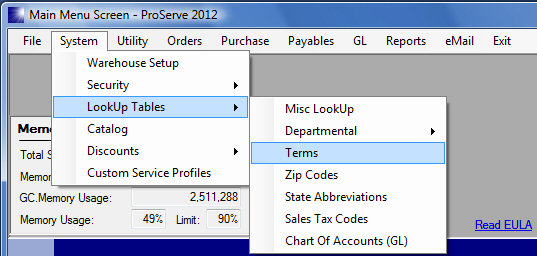 (figure - 1a)
Through out this help documentation I will reference programs as follows:
Start up System/LookUp Tables/Terms
From main menu select System/LookUp Tables/Terms
Run System/LookUp Tables/Terms to modify terms.
...
Each sample above indicates that you should select System from the main menu screen and then select LookUp Tables and then select Terms to load the Terms File Maintenance program. (as shown in figure 1a above)
Logos:
InvStyle2.jpg (350 x 85 pixels) Covers Phone Numbers
InvStyle3.jpg (800 x 85 pixels) Covers Address & Phones
StmStyle2.jpg (350 x 60 pixels) Covers Phone Numbers
StmStyle3.jpg (900 x 85 pixels) Covers Address & Phones
Note: Logos must match sizes in pixels...
Note: InvStyle2 - 3 fits Work Order, Invoice, Sales Order and Reminder Notice.
Copy your logos under the ProServe2012\Logos folder using the same file names.
...
Window Envelopes:
Double Window - 3-7/8 x 8-7/8 #9 (fits all forms)
Single Window - 3-7/8 x 8-7/8 #9 (fits all forms)
...
Reminder Notice:
Use Standard Letter Size 8-1/2 x 11 Paper (Laser Printer)
Fits Standard three peace perforation sheets at 3-2/3 and 7-1/3.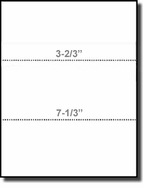 This paper is Stock and can be purchased most anywhere.
click here for more info...
Note: I may have mentioned cuts at 3-5/8 from top in videos, please ignore that. The standard cuts are 3-2/3 and 7-1/3...
As you open each screen; the customer screen, order entry screen or any other screen. You're working in what is referred to as a screen session or file maintenance session. This design allows you to make many changes to many different records within the same session. Then when ready you can Save All the changes that you made back to the live databases, or you could choose not to Save any changes at all. As each screen loads, it loads all the records into that session for you to view, modify, add or delete.


Most all screens look similar to this one, you have your basic Add, Delete, Save All and Refresh buttons at the very bottom and the Edit, Apply and Cancel buttons in the Current Record section. After making a change to any record, you select the Apply button to apply that change to your session. (memory only) When you're finished making all your changes, select the Save All button to save all changes back to the databases.
Add - add new record.
Delete - delete current record highlighted
Save All - save all changes back to your live databases.
Refresh - reload all data from current databases.
Edit - edit current highlighted record. (you can also double click record to edit)
Apply - apply change to current session (memory).
Cancel - cancel any change to current record being added or edited.
Example: You made a change to a customer and apply it, then you deleted an expired account. But you then realized that you deleted the wrong account. Select either Refresh or Quit without saving all.
To Quit or Exit any screen session, click the X in the upper right corner of that window. This includes the Main Menu Screen.
This system allows multiple programs (screen sessions) to run at the same time. But not the same program or screen session. Your system memory resources determines how many screen sessions can be opened at any given time, plus depending on how big your database files are.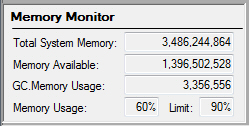 Use the Memory Monitor on the main menu screen to monitor memory resources.
If you're not able to load as many sessions as you would like,
consider increasing your system's memory.
The basic concept of this system is to setup Service Codes for each Department, setup Route Codes that represent geographical locations, setup Technicians and assign each up to five routes. Then setup Service Accounts assigning them to a route to recur as needed. Create recurring work based on your service accounts using the Recurring Creation program for each month by department. Then use the Open WIP program to print work order tickets and schedule reports to get the work done. Use the Scheduler program to schedule or re-schedule work as needed from the open work order table, use the Order Entry program to process open work orders as completed or edit work orders and create any one time work as needed.
Core Concept Guide:
Departments - Departments allows you to separate services within the entire system. In other words you can print reports by department, create recurring work by department. Your able to segregate the service types within the same system or customer service accounts database.
Service Codes - Assign each to a Department. (see above)
Routes - Route codes should be geographical locations so you can assign each service account to a Route.
Technicians - Technicians are assigned up to 5 routes.
Service Accounts - Your able to setup multiple service accounts per Billing Account. So any customer could have a Monthly Pest service and a Termite renewal service under the same Billing account.
Recurring Service Creation - Create your recurring services by department.
Open-WIP - Use open-WIP to print work order tickets, route sheets, schedule reports and reminder notices.
Scheduler - Use the scheduler to schedule, re-schedule work from the open work orders table.
Order Entry - Use order entry to post work as completed, edit work, create new one-time work orders or start-ups.
This is a Pre-Scheduled Recurring Based System...
Click here for complete support options and pricing...
This is a basic procedure guide for day-to-day operations, its intended as a guide to help you establish your own procedural guide. This guide assumes you have already setup your data.
Service Creation (Recur) - at the end of each period (month) you should run the Service Creation Recurring program to generate all recurring services for the next period. The department run depends on what the department is... Example for Pest Control you would run at the end of each month, for Termite Renewals you may want to run a couple months in advance so you could print reminder notices. Now if your running work on a Weekly bases then you would be creating work each Friday or so... Run - Orders/Service Creation (Recur)
Print Work Tickets - see Orders/Open-WIP to filter and print mass work tickets.
Also use the Open-WIP to filter and print Schedule Reports, Route Sheets or Reminder Notices.
Use Order Entry under Orders to edit, delete and post work as completed or create one-time work orders.
Use Scheduler under Orders to re-schedule or schedule open work orders as needed.
Use Customer under File to modify, add and maintain customer accounts as needed.
Using programs under Orders to post payments, apply open credits etc...
Post Journal entries on a daily bases under GL to post transactions into General Ledger.
Close Period on the last working day each month under GL using Close(GL).
ProServe 2012 comes with sample customers and service accounts so you can play with the system to get a basic idea of how it works. The first thing you should do is Create Recurring Service Orders for current period (what ever that may be). The sample data has very few open work orders and it will be much easier to understand if you're working with current open orders. Follow list below to get started...
1st - Run Service Creation (Recur) from Orders/Service Creation (Recur) to create work for current period. This will give you plenty of open orders to work with.
Open Customer File Maintenance from File/Customer File and take a look at how customers and service accounts are setup.
Open the Order Entry program from Orders/Order Entry... Post a work order with a payment, edit and save a work order, edit and select the Sch button...
Also within Order Entry Add a new one-time work order...
Take a look at the Scheduler under Orders/Scheduler...
You should watch the Training Videos, if you have the DVD you can install them from the ProServeVideos folder on the DVD... see Training Videos for more information.
Have fun, you're not going to hurt the sample data, you will be able to clean up the data tables later if you wish.
All Reports and Print options requires Microsoft Report Viewer to be installed on each local machine, If you get an error when trying to print? you should install that FREE add-on software. To install Now - click here Microsoft Report Viewer..
If you like this program? click here to purchase...
Backup - 1st let's talk about SQL Server....
SQL Server is a unique database platform that requires extra care to backup your ProServe 2012 Databases. For example the Full Version of SQL Server has a backup utility built into the SQL Server Management Studio that allows you to setup automated backup plans that can be scheduled, but the 2008 Express version does not. It does have the backup utility but you can only backup one database at a time, which makes it a little more complicated.
You have several options to choose from for backing up your databases, each requiring certain things to be done in order to make sure you're getting good backups.
1. Use SQL Server Management Studio...
2. Use Windows Explorer to Copy/Paste to an external media such as thumb-drives.
3. Use a Backup Software product specially designed for backing up SQL Server databases that can be automated. (Search Google "SQL Server Backup Software")
I recommend option 3. You can find good backup software from $55.00 on up that would work fine if you have some type of external backup drive or media. One that I found that works great and offers several purchase options is SqlBackupAndFtp.com The Free version is perfect if you don't mind not being able to schedule backups... With the paid edition you can send backups to Dropbox, Google Drive, MS SkyDrive or Amazon S3.
If you use option 2. you need to make sure you stop all SQL Server Services before copy/paste and then make sure to start it back once copy is complete. more... The main files to backup are under the ProServe2012 folder, each set has two associated files. The main Database file and the Log file... Backup both for each database. You could backup the whole ProServe2012 folder.
Again, the main thing about SQL Server is, you should never copy or move SQL databases around without stopping all SQL Server Services. (see SQL Server Configuration Manager under programs)
ProServeCustomer
ProServeInventory
ProServeSystem
ProServeOrders
ProServeGeneral
akSystem
I personally use a Western Digital external hard drive, it's called My Book. It comes with backup software that works very well. I can suspend the backup process during working hours and then easily resume backup at the end of each day. It then backups all files that have changed including my SQL databases.
Click here for complete instructions for Option 2, Using Windows Explorer...
Click here for SqlBackupAndFTP, a commercial SQL Database Backup Software product...
Empty Tables
At some point after purchasing this product, you will be ready to start setting up your company and customers. You should not use the sample data that comes with this installation. For more information on how to get started see the New Startup page...
---
---