Pest Control Service Management Software Solutions.
---
ProServe 2012 Basic Features...
Complete Accounting with Sales Orders, Accounts Receivables, Purchase Orders and Payables with Inventory Control and General Ledger.
Its basic design allows as many service accounts required for each billing account to be setup for recurring services, with easy to use schedule types and controls.
The recurring services are controlled by the Creation program based on Department, including easy to create manual one-time services.
Day-Timer style Scheduler compatible across a network, allowing users to see and schedule work from the open work orders table, by viewing up to four day-timers for any selected technician. (unlimited technicians) Users can also schedule from the Order Entry program and from the Service Account Setup screen.
With the Microsoft Report Viewer it's easy to save any report or invoice in pdf or Excel formats.
Built in email feature for sending email directly thru your mail server. (bypassing any email software like Outlook, Thunderbird etc...)
Global Invoice email (auto emailing features)
Global Statements email (auto emailing features)
Multi-User platform. (compatible across client/server or peer-to-peer networks)
Multi-Warehouse (Satellite Office) compatible.
(designed with Windows Server 2008 R2 Hyper-V (virtual machine technology) in mind)
Customizable Work Order and Invoice forms including using your logos.
Customizable Profiles like Area(s) Treated, Target Pest and Service Account profiles.
Complete security with User-groups and user accounts.
Customize your Departments, Service Codes, Routes, Territory, Terms and Technician tables to fit your needs with your own specific terminology.
It's a very unique program that allows you to provide a service and sale inventory items at the same time, on the same work order or invoice. You can also recur inventory line items on work orders.
It fits most any service type industry, not just pest control service. Like Termite Inspection Service, Air Sanitizing and Deodorizing Service, Equipment Rental and Maintenance, Mower and Lawn Care, Septic Tank Service, Window Cleaning Service, Animal Control Service and many more...
You can actually turn off the Accounts Receivable side of the system, this allows for in-house maintenance type services like equipment maintenance in an office building complex.
Optional Website Service Tools that allows you to upload and download work order tickets to and from the web for access and processing in the field.
Compatibility...
ProServe 2012 is an Microsoft Windows Desktop Application. (it is not web based)
It's designed to run on single user computers, client/server or peer-to-peer networks.
Microsoft Windows XP SP3 (32 bit or 64 bit)
Microsoft Windows Vista (32 bit or 64 bit)
Microsoft Windows 7 (32 Bit or 64 bit)
Microsoft Windows 8 or 10 (Windows Desktop UI Only) learn more...
Any Microsoft Server 2003 or better (32 Bit or 64 bit)
Requires Microsoft .NET Framework 3.5 **
Requires Microsoft Report Viewer **
Requires Microsoft SQL Server 2008 ** - learn more...
** installed from DVD or downloads from Microsoft sites during installation.
At least 4GB of Memory and plenty of hard disk space. (server or main computer)
Screen resolution of at least 900 x 685 pixels.
DVD drive to install from our DVD.
All reports are designed for Laser printers. (work tickets - Laser or Dot Matrix)
It is NOT compatible with a Mac.
Database...
This Database Platform is made up of five (5) databases each with multiple tables...
Customer - Billing, Service Accounts, History etc..
Inventory - Inventory, Vendors, PO tables etc..
Orders - Open work, sales and invoice tables etc...
General Ledger - Basic GL tables etc...
System - Basic system type tables and counters etc...

Runs with Full or Express Editions - learn more...
Like any other SQL Server databases you can access them with any SQL Server compatible software programs. You can also create connections using ODBC.
Click here to download Demonstration Videos...

ProServeWeb Tools, it is an extension to ProServe 2012 (desktop solution) that allows you to upload and download work order tickets to and from the web for access and processing in the field using your smart devices. While ProServe 2012 and your data is still installed locally. It's the only solution that offers the best of both worlds... Click here for more information...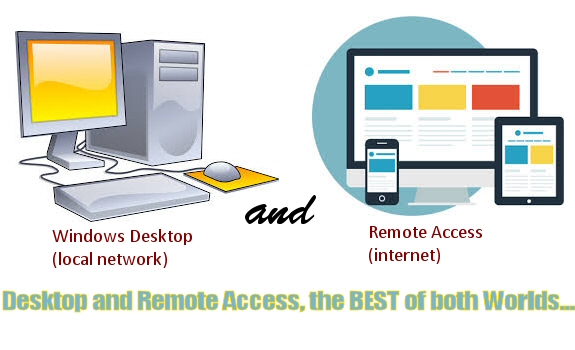 If you want remote access and yet are concerned with all of your company data being housed on the cloud, then consider our unique solutions. With ProServe 2012 and it's databases installed and maintained on your local desktop or network, while being able to synchronize only work orders to and from a web based SQL database for remote processing may be the answer... more...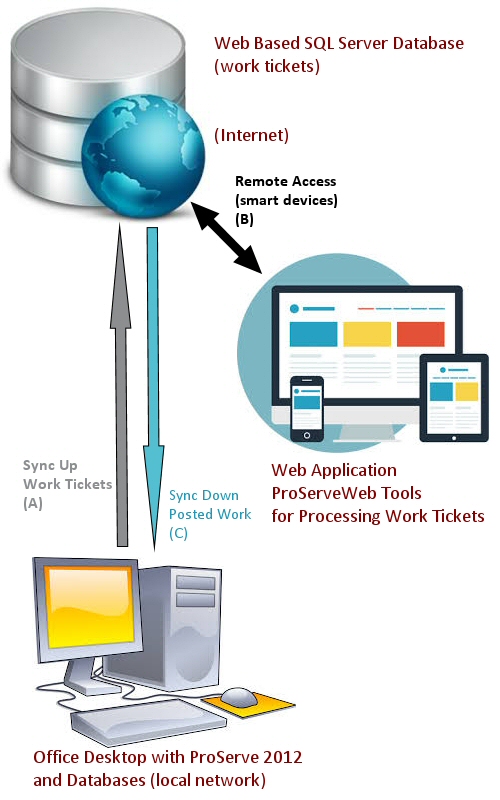 ---
---